Categories
Cart Contents
Your cart is currently empty
Subtotal: $0.00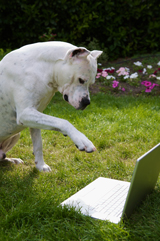 Consultations are by appointment only. When we are at a training facility, we're either in an appointment or teaching classes so we aren't available for walk-in visits.
The best way to reach us is by email. Otherwise, feel free to leave us a voicemail message and we will call you back as soon as we can.
We look forward to hearing from you.

All About Dogs
Voicemail: 703-497-7878
Fax: 703-297-4406

Need an address or directions? Click here for facility information.