Categories
Cart Contents
Your cart is currently empty
Subtotal: $0.00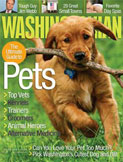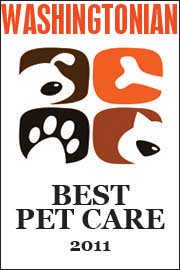 Since 1993, All About Dogs LLC has been dedicated to providing the best possible counseling and training for you and your dog. Programs focus on teaching your dog to be a well-mannered dog, which the whole family can enjoy. We believe in the highest quality service for all our customers and are dedicated to teaching humane, dog-friendly training methods.
We're proud to announce Washingtonian Magazine once again listed All About Dogs as one of the top dog training facilities in the area!!! We were also voted the number one dog training facility in Prince William County!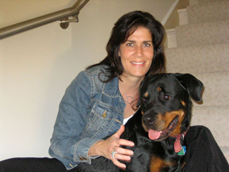 Pam Nashman, CPDT-KA
Owner
Pam Nashman is a Certified Professional Dog Trainer, (CPDT-KA) and owner of All About Dogs, which has been recognized as being among the best by the Washingtonian Magazine for working with family pets.
She has lectured to various groups including rescue organizations, shelters and veterinary clinics, trainers and at the DC Police Academy on bite prevention and how to better understand dogs.
Living with a reactive dog and leading the reactive dog classes at All About Dogs in addition to her extensive experience working with owners in their homes has led to Pam becoming highly regarded for her work with reactive dogs and their owners.
Before working with dogs full time, Pam was a Human Resources Consultant. This combination is what makes Pam so good at working with both dogs and people. She is compassionate, patient, and intuitive. Pam enjoys reading books and attending seminars related to animal behavior and dog training. Pam earned a B.S. degree from George Washington University.
She oversees all of our training programs, which currently include group classes, private lessons, day school, and behavior assessments.
Colleen Pelar, CPDT-KA

Colleen has been teaching dog obedience classes since 1991. She enjoys working with dogs and their families. Colleen has a B.A. from Penn State. When she is not training dogs, she's busy with her husband and three sons. She is also the author of Living with Kids and Dogs . . . Without Losing Your Mind, which won the Humane Society of the United States Compassionate Care Award, Kids and Dogs: A Professional's Guide to Helping Families, and Puppy Training for Kids. She is highly regarded for her work, and is a sought after public speaker.


Vicki Gotcher
Vicki has trained at All About Dogs since 2004 and joined the staff in 2007. After the great experiences and fun she had while training her two yellow Labs, Nilla and Bodie, she decided to share what she has learned (and is still learning) with other dog lovers. In addition to Nilla and Bodie, Vicki shares her home with another dog lover, her husband Scott, and two dog loving cats, Sadie and Bagheera. Vicki is a member of the Association of Pet Dog Trainers. She has earned a Bachelor of Music Education from Stephen F. Austin State University in Texas and a Master of Music and a Certificate in clarinet performance from Northwestern University in Evanston, IL. She is also a clarinetist with The "President's Own" U. S. Marine Band in Washington, D.C.
Eileen Fulk
Eileen joined All About Dogs in April 2004. In a nutshell, she simply loves dogs. Her Australian shepherds, Lucy and Ricky, rule the household with iron paws. Eileen is training Lucy to become a certified hearing and therapy dog. Eileen attended George Mason University and Northern Virginia Community College. She's a program manager for the Defense Logistics Agency and devotes her free time to reading, making stained glass creations for her family and friends, and spending time with her husband, Tony, and Lucy and Ricky.
Diana Craig
Diana began training with All About Dogs in April 2005. She was born and raised in Central Illinois and married her hometown sweetheart (and husband of over 30 years) while he was serving in the Navy. The couple lived in Scotland for almost 4 years, and their two children were born during their tour of duty. They've lived in Woodbridge since 1978. Being a stay-at-home mom allowed Diana the privilege of volunteering with the local schools for 14 years in various capacities including 2 years heading PTO Volunteers Committee responsible for finding and scheduling other volunteers in various capacities to aide the school, students, and teachers.
Diana's love of animals was encouraged by her parents. Her dad's fondness for farming and animals has always been a big influence on her love and gentle care of animals. This affection toward animals continued on with her caring for the neighborhood animals. She is currently a member of the Professional Paws team and cherishes the moments with each little paw. Diana is also a proud "doggie mom" and always eager to return home to Missy, a shy Pomeranian, who has thrived in her new home and recently achieved the CGC award. They also share their home with their "grand-kitty," Dakota, grey tabby kitten of their daughter's. Diana is a member of the Association of Pet Dog Trainers.
Amy Tram
Amy began training at All About Dogs in 2006 and became part of the staff in 2009. Amy's border collie Mango, a Rowdy Rover, inspired her to learn more about dog training and behavior. They have taken a variety of training classes and were thrilled to have found a home at All About Dogs. Amy understands the challenges and rewards of working with rowdy rovers and is excited about the opportunity to share her knowledge and experience with other dog lovers.
Amy and Mango played flyball for several years before he retired a few years ago. Her husband did agility with their other border collie Razz for a short period. All four of them spend lots of time taking long walks, exploring local parks, playing frisbee and fetch. Amy is currently a MBA student at the University of Maryland's Robert H. Smith School of Business. She earned a Bachelor of Arts degree in History from the University of Virginia and works in marketing for the architecture/engineering industry. Besides her own border collies, dogs, and AAD, Amy loves yoga, barre, cupcakes, and spending time with her family and friends.

Megan Brooks, CPDT-KA

Megan joined All About Dogs in 2010 and couldn't be happier! After counseling dog owners and working with dogs for over 20 years in the animal sheltering field, she's very excited to be able to continue this through All About Dogs. In her shelter work, Megan has had the joy of meeting thousands of dogs and learning something from every one of them. She has given numerous classes on living with adopted dogs, contributed to national publications on animal sheltering, and has received commendation for her work with shelter animals.
Having owned eight of her own dogs and fostered countless others, Megan has helped owners work through a wide variety of dog behavior/training dilemmas from a positive and practical perspective. She particularly enjoys helping families with their dogs and helps teach summer camp for children to learn about dogs. Megan works for a local non-profit that provides opportunities for children to be healthy and active outside. She also volunteers at her kids' schools, with Australian Shepherd Rescue and Placement Helpline, and is a board member of GoodDogz.org. Megan is a recent convert to mountain biking and enjoys reading and gardening. She currently lives with two dogs, two children, two cats, a bunch of rescued fish and one very understanding husband.
Lynn Heun
Lynn started training with All About Dogs in 2013 and joined the staff in 2015. Her professional and volunteer history is in education programs and animal rescue, and she loves being able to support people and their pets while they learn how to enjoy a good quality of life together. Her love for training is inspired at home by AAD alumni, Balton and Ollie. In learning how to support the needs of her reactive shepherd and mischievous Jack Russell terrier, she's experienced firsthand the many benefits of positive reinforcement and humane, science-based training. The strides they've made together have hugely impacted Lynn's interest in understanding how dogs learn, reducing stress and fear, building confidence, and making training fun. Together with her clicker-trained cat Meeko, her boys offer continued enjoyment and exciting new challenges.
Lynn holds a BA from Montclair State University and is currently pursuing a BS in Nursing. She is a professional member of the Association of Professional Dog Trainers and Pet Professional Guild, and regularly takes part in animal training workshops and seminars as part of her continuing education. She volunteers with and oversees training programs for DC PAWS Rescue, and enjoys spending free time exploring and adventuring Northern Virginia wineries, nature trails, old towns, and historic sites with her husband and son.